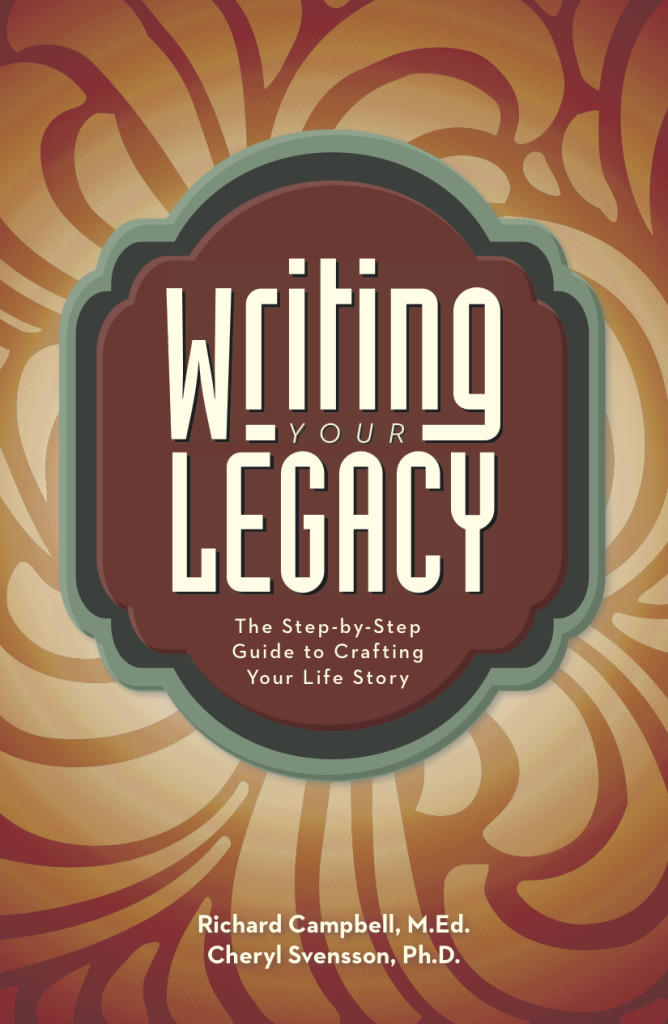 This is the book we've been waiting for: the definite guide to writing your life story inspired by the master of guided autobiography, James Birren. Now the fundamental methods of guided autobiography are available to us all.
Harry R. Moody, Ph.D.
Author of The Five Stages of the Soul
Retired Vice President, AARP, and
Editor, Human Values in Aging Newsletter
---
Writing Your Legacy is your life story in 2-3 page vignettes. I call them mini-memoirs. Cheryl and Richard have written the perfect guide that will lead you through the labyrinth of your deepest memories. Trust them from beginning to end – it's their gift to you.
Leil Lowndes
Internationally recognized communications expert and author of several top-selling books, including Goodbye to Shy and How to Talk to Anyone.
---
I was thrilled to find this jewel of a book! It will inspire people of all ages to capture the moments of meaning that highlight their lives and legacy. Probing questions and exercises will engage people to write a powerful and unforgettable story.
Linda Joy Myers
President and founder of the National Association of Memoir Writers, author of Don't Call Me Mother, ForeWord Book of the Year Finalist
---
When you know it's time to write your life story, you want the right people on your team. As a former history teacher, and non-fiction writer, I know the importance of "getting the story right." This book will show you how to create a compelling, theme-based life story. It is richly enhanced with specific activities and targeted prompts that make it easier to get more of your real story. I'm a believer in Cheryl and Richard's work.
Jason W. Womack, Med, MA
Founder of www.TimeToGetMomentum.com
---
When I began teaching life writing classes in 2004, I followed James Birren's "Telling the Stories of Life through Guided Autobiography" like a new bride with her first cookbook. I still draw on Birren's teaching in my classes, and now I will add the insights and exercises in Richard Campbell's and Cheryl Svensson's "Writing Your Legacy: The Step-by-Step Guide to Crafting Your Life Story" to my repertoire. Life experiences happen one after another; memoirists often struggle to place these into a meaningful whole. Cheryl and Richard help show the way. Whether you are writing your own memoir or helping others, this book belongs on your shelf.
Sarah White
First Person Productions, President 2012-2015, Association of Personal Historians
---
There is no greater gift to give your family than the story of your life. Richard and Cheryl's book, Writing Your Legacy is a gift to anyone who wants to write their story and leave it as a legacy. The book is clear, concise and reader-friendly. All a person has to do is take up their pen and follow the ten core legacy themes. In this fast-paced electronic age, stories are often lost if not preserved in writing. As one who has helped older persons write their stories for 35 years, I am grateful for this new creative and helpful guide and look forward to using it as I continue this much needed ministry.
Richard L. Morgan PHD
Author of Remembering Your Story: A Guide to Spiritual Autobiography.
---
Has some recent experience primed you to consider writing your life story—passing on a legacy to family and friends? As you consider that possibility, does a huge lump of apprehension swell in your throat? If so, join your colleagues. Among Americans approaching or enjoying retirement years, it's becoming a national phenomenon. The authors, Mr. Campbell and Dr. Svensson, have helped many people begin the process through Guided Autobiography groups. Thanks to them, this book is a mighty manual loaded with critical hints, tips, and cautions that morph into a self-guided coach to finish the task. A coach in a book! Herein, they describe a system to assist you in gleaning more material and an easy to understand process toward accomplishing that goal.

Just imagine yourself seated at a desk loaded with stacks of newly published books as you sign and distribute your memoir. Thousands of ordinary people have done so, and you can, too.
Mary O'Brien Tyrrell
President, Memoirs, Inc. and Author, "Become a Memoirist for Elders: Create a Successful Home Business."
---
Writing a personal history can be both transformative and daunting. Anyone grappling with how to begin will benefit from insights presented in Writing Your Legacy. Writers will learn to avoid a dry chronology by going deeper into themes that guide and shape the evolution of a life like no other.
Kathryn N. Cochran
Co-author, Telling the Stories of Life through Guided Autobiography Groups
---
This guidebook, Writing Your Legacy, distills years of experience with Guided Autobiography's thematic approach to life story writing to help us all more effectively understand and develop our stories. New themes, like building blocks, encourage us to go to the heart of experience and create an authentic, meaningful portrayal of our lives. It's a gem!
Paulette Stevens, President
Life Story Library Foundation
lifestorylibraryfoundation.org